In Take 2, we explore the practical approaches to establishing yourself as a wildlife filmmaker.
Getting on the wildlife cameraperson ladder.
There is no official way of becoming a wildlife cameraperson. The onus is very much on the individual to meet the right people and learn the skills. Meeting the right people sometimes involves being persistent enough without being annoying. You do need to be more than just another CV on the already huge pile.
Try to get face-to-face time with television producers, directors etc so they can put a personality to your name. Make sure you ask questions about what they do as well as telling them what you want to do. If you just start a dialogue with "do you have any jobs" nine times out of ten the answer will be no – end of dialog.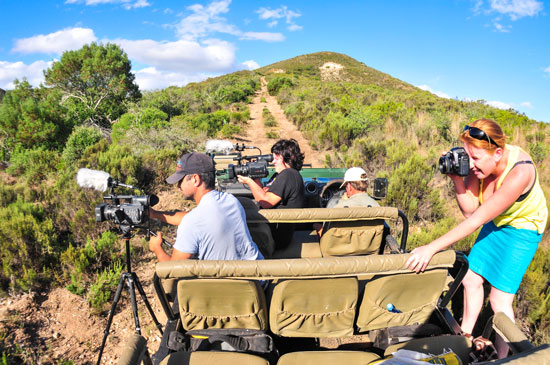 Fieldcraft
To be a good wildlife cameraperson you need to know how to get the best out of camera equipment and you need to know how to shoot a sequence that tells a story. You also need to be a good naturalist and know how to get close to the wildlife you need to film.
Many, or probably most, of the best wildlife shooters have been interested in the natural world as long as they can remember and thus have built up knowledge of animal habits and habitats and ways to find and get close to animals. These techniques, together with advice from local experts, can be extrapolated to new or less familiar species as and when they are encountered. Any experience that you have observing animals closely for prolonged periods, eg. for a conservation project or for academic study, should be made known to potential employers.
Getting your work out there
Although it can help, it may not be the best idea to make a load of DVD's of your film and ship them off to potential employers. If you have a showreel, the best way to market it these days is probably via a website.
Making a website is becoming easier and easier to do yourself. Although it's not likely people will come across your website by chance and employ you, it can be a quick way of getting producers and potential employers to get to know you and view some of your work. A website that summarises your skills, your best pictures and perhaps have a showreel can be very effective. A producer might feel he/she hasn't got time to meet you right away but humans are curious and highlighting a link to your website in an email is likely to get a click out of curiosity if nothing else. Clicking on a web link is so easy to do.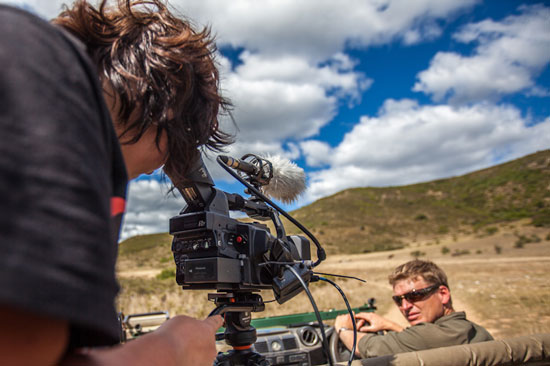 Approaching production companies
The BBC Natural History Unit is the most famous producer of wildlife films. There are also many excellent independent companies. Many camera people began their career at a production company, perhaps as a runner (general dogsbody helping with whatever needs doing including making tea), or researcher. Whilst you don't need qualifications to do camerawork, it can help to have a degree in biology or zoology to get you a foot in the door as a researcher. It is common for people to do 2 weeks unpaid work experience before being taken on.
Working "unpaid " doesn't have to mean working for "free". If they can't afford to pay you, don't be afraid of being up front about what you would like to get out of the experience. Having someone talk you through how to operate a particular camera, or being allowed to sit in on an edit could prove more valuable in the long run than a little extra cash in the pocket.
Working for a production company is a great way of learning the industry, how programmes are made and meeting people. You're unlikely to be doing any camerawork for a while but if you make it known at the right time that it's something you're interested in, you should be able to start helping out on some shoots and you might get your hands on some kit occasionally.
For your first approach to a production company, try to find specific names of people to email a CV to rather than just writing a dear Sir/Madam letter to no one in particular. Expect to get a LOT of rejections or no reply at all. People in a position to give you a job are likely to be very busy without all the emails (lots and lots of them) that they inevitably get from people wanting to get started in the industry. If you haven't heard anything for a couple of weeks, try to make a follow-up phone call.
Approaching editors
One of the best things you can do to learn how to be a good cameraperson is to sit in on editing sessions. Following the right approach, editors will sometimes let people sit in on editing sessions. There is no better way to see the kinds of footage the top camera people are delivering and more importantly what gets used and what doesn't. The best camera people are those able to give the editor exactly what he needs to tell the story. A good editor can quickly and visually explain what works and what doesn't. He can also show what can be fixed and what cannot; because not every shoot goes perfectly or gets all the right material. Learning the fundamentals so that on location when things go wrong you can still deliver useable material is a huge bonus. When starting out, a couple of days in the edit suite can be worth weeks on location where you may not get near the camera or see any of the footage.
Approaching camerapeople directly
You can write to camerapeople offering to help them out on shoots. In reality, opportunities are likely to be few and far between. Camerapeople generally don't have any involvement or ability to hire people for shoots. Any newcomer assisting jobs that do come up are likely to be in your country of residence because, for the production company, filming abroad means flight costs, accommodation costs and other logistical considerations for every person involved. So, even if you are offering your time for free, there are other costs to consider. Programme budgets are very tight these days and if an assistant is assigned to a cameraperson, that assistant will often be someone already on the pay roll at the production company. On overseas shoots hired camera assistants will more likely be the choice of the cameraperson and have proven their skills and abilities. Often they will be people they have worked with extensively.
Industry training and Events
The BBC sometimes run a bursary scheme whereby they train up a successful applicant with on-the-job experience. However, there is only one or, at most, two places a year up for grabs and some years the scheme doesn't run at all. Organisations such as BECTU, Skillset and Local Arts & Film councils can help with training courses. Wildlife film festivals like Wildscreen have workshops and classes and can be a great place to meet people and gain insider information.
Do I need my own equipment?
There was a time when most established wildlife camerapeople owned their camera equipment. However, since programmes shot on high definition video became the norm, camera ownership has become less common and equipment now tends to be hired in for each job. There are several camera formats around and different cameras are suited to different jobs.
It's still not uncommon for a cameraperson to own specialist lenses and other equipment that they use regularly but it's not essential and it's certainly not necessary to have your own professional-level equipment to get started.
In terms of learning about the camera equipment, the operating manuals for off-the-shelf products from the likes of Panasonic and Sony can sometimes be downloaded online. However, this is no substitute for hands-on experience, something that can be very difficult to gain when you are starting out.
As well as good camerawork, it is unique, specialist skills that will more often than not get you on a shoot. Being able to offer sound recording, time-lapse and probably in the not too distant future IT skills will likely help more than actually owning particular bits of kit.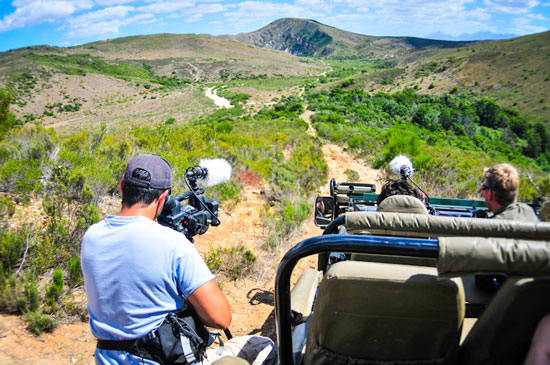 At the end of the day, it will be passion and determinination that sets you apart from the rest. Feel free to ask your questions in the comment section below, and good luck establishing yourself as a professional in the wildlife filmmaking industry.
For practical experience and training to succeed in a wildlife filmmaking career, click on the Wildlife filmmaking link on the right of this page