Guinjata Bay is not only the home to the Fiona Ayerst Underwater Photography Program, but also to some amazing marine animals, both big and small.
There are such a variety of species to see, you sometimes don't know what to point your camera at! Although there's an abundance of species and choosing favorites is extremely difficult, here is a list of species that make the best underwater "models".
PEACOCK MANTIS SHRIMP
These little guys may possibly be the most entertaining and amazing creatures I've ever seen. They have the ability to boil water with their strike – the fastest strike in the animal kingdom. They can see colors we can't even imagine and they are strikingly beautiful. The Peacock Mantis Shrimp deserves its spot on everybody's must-shoot list. Luckily, there is no shortage of them at Guinjata Bay – you just have to know where to find them. Be careful when you approach them and don't get to close. They get very easily startled.
NUDIBRANCHS
There are thousands of species of Nudibranchs worldwide, and you will find a fair few located in Guinjata. With colors ranging from white all the way to psychedelic polka dots, nudibranchs are beautiful and make for an exceptional photo.  There are many different shapes and sizes and no one photo will ever be the same.  Nudibranchs have their colorful attire thanks to the toxins in their skin; some even harvest the stinging cells of anemones or other plant species to use as defense mechanisms. Be sure to take your time and get their gills or rhinophores nice and sharp in your image, as that is the most appealing part of the slug.
PORCELAIN CRABS
Porcelain Crabs are awesome to shoot! They are stunning to look at, especially when you find them nestled into a beautiful anemone, which adds to the drama of your photo. Most of the time, they stay relatively still, which is great as it gives you extra time to experiment with different settings. And if one does decide to hide itself, no worries, there is no shortage of porcelain crabs in Guinjata Bay!
SHRIMPS
There are many species of Shrimps hidden around Guinjata Bay. All as beautiful as the next. They're often out in the open, which is perfect to get the photo you're after. They are also very residential which means that you will find them more or less in the same spot. So, if you miss the shot you wanted, you can go back the next day and they will be waiting there to give you a second chance. Every photographers dream! Their eyes are a great target area, try for a high F Number as they have legs and antennae sticking out everywhere and it can be difficult to get it all in focus. But if all else fails, you can always settle for an underwater manicure!
FROGFISH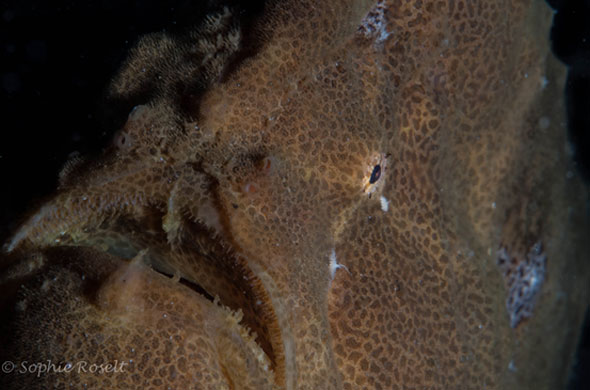 Then, the frogfish. A very sought after species by photographers. They are incredible animals, and you will be fortunate enough to see a variety of coloured and sized ones while diving in Guinjata Bay. You might be shown one and have absolutely no idea what you are looking at, as they use camouflage very successfully. Pretending to be part of the reef or a sponge, they wait till an unsuspecting fish gets too close and then gobble them up with the fastest bite in the animal kingdom.
TURTLES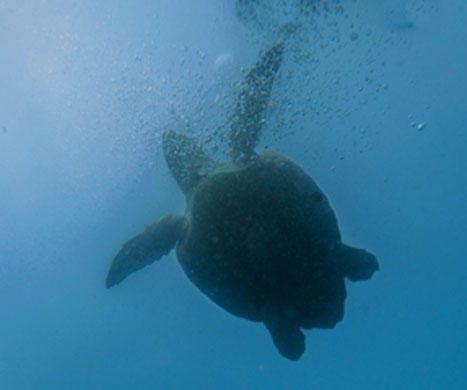 I don't think I've ever met anyone who didn't like a turtle. They are adored by many and make every diver happy – one of the things that make a great photograph, viewer interest!  They are stunning and such funny characters. Whether they're lazily munching on the reef or taking a nap in a cave, they're always a favourite for a photographer.
The participants of the FAUP program have been lucky enough this month to see a lot of turtles, and have produced some of their favourite shots because of these cool creatures. Always remember to respect the animal before you take the photo and don't chase or harass anything in order to get the shot. Most creatures respond much better if you approach slowly, and who knows, they may even come to you.
LIONFISH
Lionfish have the ability to make even the darkest days look vibrant and colorful. Although they are not big, they look awesome on wide-angle if you get the correct composition. You can have a reef and blue water in the background to portray an overall scene, opposed to just an individual species. It helps to get nice an close to the lion fish and ideally, a free swimming one.  Just be careful not to get too close – they have a very nasty sting!
MANTA RAYS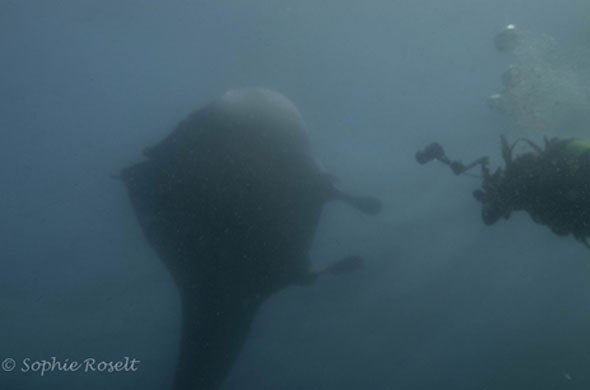 Guinjata Bay is a 10km boat ride away from the world famous Manta Reef – a very popular cleaning station for these magnificent creatures. It is teeming with life – thousands of fish, massive potato bass and if you're lucky a Giant or Reef Manta Ray!  Manta Rays can get up to 8meter in length and they visit this reef to be cleaned by all the cleaner fish – such a spectacular show! If you are lucky enough to be graced by a manta, be sure to stay still and let it come to you. Chasing a manta is a sure way to scare it away and ruin the experience for everyone else. It is much better to have it come to you, and if you stay calm, it might even come back for another visit.
POTATO GROUPER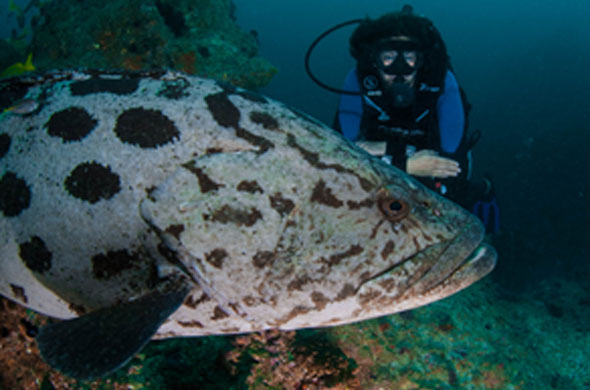 These massive fish are perfect for wide-angle shots and you can also find them on Manta Reef. They normally stay quite still and are perfect to photograph. You can, experiment with forced perspective, using models, or photograph them alone. You can get very close to these fish and they barely move – they only follow you with their eye. I'd love to know what goes through their mind as they look very grumpy and a bit intimidating. Other places I've dived with them I received a small nibble, but you'll be happy to know the ones here at Guinjata are as friendly as the people!
HUMPBACK WHALES
Guinjata Bay is one of the destinations for Humpback whales migrating from Antarctica. They end their massive journey here to give birth and raise their young. While traveling to and from dive sites, not only can you see their spectacular surface displays but also get one visiting you while diving. Having a giant whale swim within meters of you is an amazing experience, and you're even luckier if you happen to have your camera ready.
You hear them singing on every dive and even if you might not see one swim by, you can still feel the vibrations of their song in your whole body. It's incredible and a visit to Guinjata just for humpbacks alone is a must.
Now, with all these amazing species to inspire you to visit Guinjata bay, good luck deciding which lens to use!
---
Blogger Profile – Sophie Roselt

Sophie hails from New Zealand where she started her SCUBA diving career and progressed to the dive instructor level with ease and class. Sophie has a big heart and loves all creatures great and small. She spends much of her free time as a volunteer for Greenpeace, New Zealand. Like Fiona, Sophie is a true ambassador for the ocean and marine conservation and is not shy to spread her love for all things aquatic, far and wide. Although she doesn't tell many people this, Sophie is an award winning underwater photographer. Sophie has worked in Mozambique as course director in the Underwater Photography internship training program. 
---