In a world where visual communication consumes a hefty portion of our lives, it is sometimes difficult to step back and enjoy a great image for what it is – a record, captured through the eyes of someone, of something, you have not been able to witness first- hand before. A photograph, in its truest form, has no agenda. It is purely a documentation of something, somewhere in a specific frame of time. However, when looking at it, it takes your breath away.
In the case of underwater photography, this statement cannot be truer.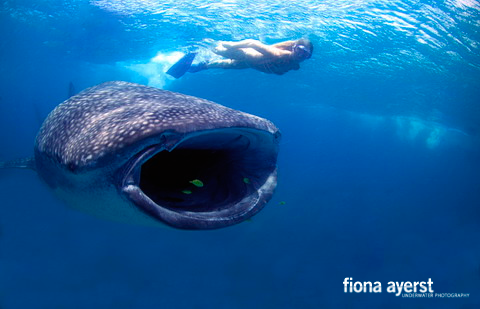 This is just an image of a whale shark, doing what it does each day of its life. What makes this image incredible, is the fact that very few people will ever be in the position to witness this. It is only through the talented eyes – and an unquenching thirst for adventure – of underwater photographers, that this can be documented and shared with the world.
Bringing life to life.
For billions of people around the word, life under the waves is a complete mystery. They find more interest in the moon, than they have of whatever is going on underwater. One reason for this can be, well, because they can see the moon (even if it is from quite a distance). Luckily, due to the hard work of underwater photographers, millions of images exist, verifying the magical world a few meters away from the shore line and generally "wowing" audiences into having a much higher awareness about underwater life. Thanks to the effort of underwater photographers, many people can now appreciate this eco-system.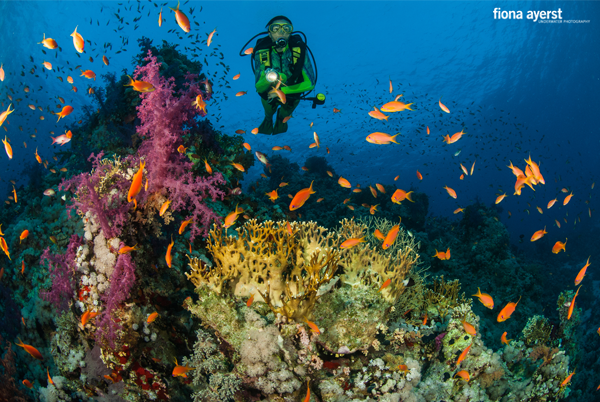 Assist in conservation.
Underwater photographers are true advocates for the state of the world's oceans. By just sending their images out into the world, many people get inspired to get involved with environmental organisations, or even just follow the photographer on facebook…following an underwater photographer on facebook will definitely expose you to many environmental issues. (Follow Fiona Ayerst for great underwater images…and some environmental activities.)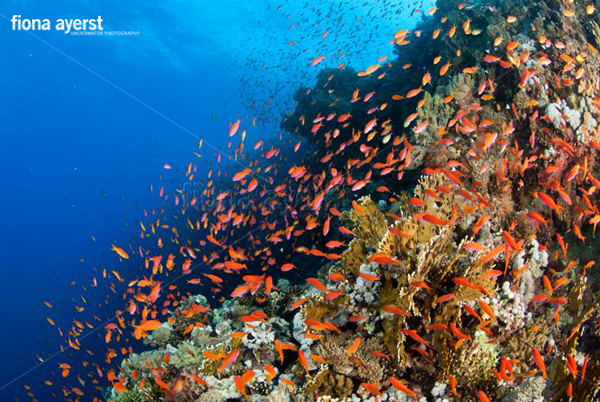 Makes the world a smaller place.
In order to capture great images, underwater photographers travel far and wide to find the perfect combination of reef, animal life, and crystal clear water. This search takes them to exotic places most people have only read about in books. Sharing images and telling stories of these mysterious places, make it easier – even just for the imagination, to travel there and experience it first-hand.
Underwater photography as art.
Technique, vision, composition, use of colours…It all need to come together to produce a fine piece of "underwater art". Conditions under the water cannot be described as perfect for photographers – bad lighting, visibility, noise and uhm…no air to breathe makes underwater photography one of the most challenging photography disciplines. If you consider the amount of effort, skill and talent going into each underwater image produced by a professional underwater photographer, you will soon realise that they are true artists.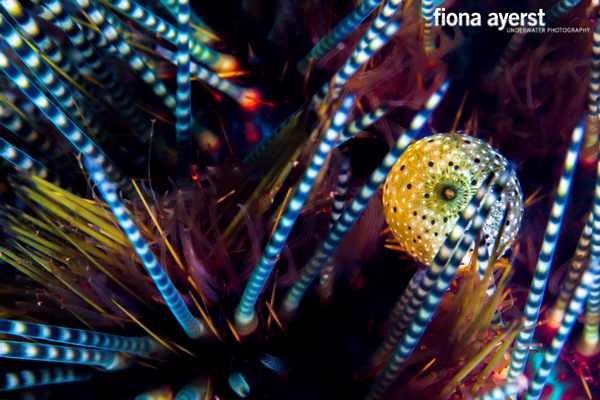 It is great fun to produce.
Even after only a few dives, I cannot explain the sheer exhilaration of being underwater with countless colourful marine animals. Being able to discover and take pictures of these landscapes is truly a blessing. People pay good money to SCUBA dive and I am sure for those who have not done it, that it is on your bucket list. How awesome would it not be then, to make it part of your career?
It is awesome to look at.
To conclude, underwater images will always make people stop and take another look. It may be because of the unknown being pictured or because of the great technique of the photographer. For me, it is the calmness and serenity of an underwater world that draws me into the image and makes me forget about the stresses of everyday life.
Join Fiona Ayerst and other aspiring underwater photographers on a diving expedition in the crystal clear waters of the Indian Oceans this year.

---
Blogger Profile – Oceans Campus CEO, Katie Cummings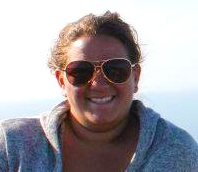 After graduating with honours in political science and history at Quinnipiac University in 2008, Katie Cummings came to South Africa in 2010 to participate in the Oceans Research internship program.
Originally from Boston in the USA, Katie performed so well as an intern she was asked to stay on as an employee. Three years of hard and passionate work led to her being appointed as the CEO of Oceans Campus (Africa Media official partner), where she continues to contribute to the protection of the world's vulnerable species.
---