Haunted houses are one thing but for those who want to get really terrified, check out the following most haunted dive sites!
Location: Little Devil's Eye and Devil's Ear Caves, Ginnie Springs, Florida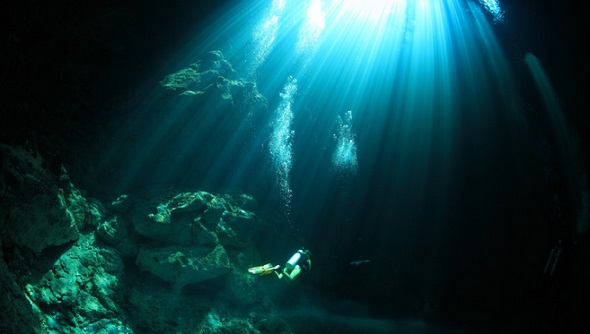 Diving in a natural spring is beautiful, but when it's Little Devil's Eye and Devil's Ear caves at Ginnie Springs it can also be a little scary. With strong currents and temperatures that drop to 72 degrees F (especially in Devil's Ear), even experienced divers have perished here.
Others have described something like a vortex inside the cave, which makes many disoriented. Some believe it could be the spirit of a deceased diver looking for help.
Wreck: RMS Rhone
Location: Salt Island, British Virgin Islands
This Royal Mail ship sank in October 1867 during the San Narciso hurricane. The captain tried to escape the storm, but shifting winds slammed his boat into Black Rock Point. The crash broke the ship's back in two, and the cold waters caused the boilers to explode.
The ship rests at about 30 to 80 feet deep — nearly at the bottom of Black Rock Point — and divers have reported seeing people frantically swimming for the surface wearing no gear. When the divers approached to assist, the frantic swimmers disappeared without a trace.
Wreck: S.S. Thistlegorm
Location: The Red Sea, Egypt
Two bombs dropped by a German aircraft sank the S.S. Thistlegorm in October 1941. At the time, it was loaded with military supplies for the British Navy.
Jacques Cousteau discovered the ship and its cargo in the 1950s. Among the ship's contents were Bedford trucks, armored cars, steam locomotives and artillery. To this day, divers of the wreck frequently report hearing machinery running and seeing shadowy figures aboard the wreckage.