Oceans Campus is committed to the development and mentoring of a new generation of wildlife professionals and experts. Today, we are beginning to see our investment into the future pay off. Many Oceans Campus alumni are moving into the professional ranks of marine and terrestrial wildlife industries, making their contribution to the conservation of the world's natural resources. In this week's Really Wild News feature, we give you an update on the wild careers of our Alumni.
Melissa C. Marquez – Writer, Shark Conservationist and Conservation Educator
Melissa attended the Oceans Research program in 2013, and since then, focussed her time and energy on many things relating to the conservation of sharks and the health of our oceans. She founded Sarasota Fins – an organisation dedicated to the integration of shark education and conservation into primary school teachings. Sharks hold a special place in her heart! Currently an undergrad at New College of Florida, her thesis focuses on great white sharks in South Africa. She plans to pursue a PhD on the behaviour, ecology and conservation of sharks.
She also authored and self-published two books, Sharks, Skates and Rays of Sarasota Bay and Finley's Great White Adventure – both books are available for purchase by following the links and definitely worth a read.
You can find out more about Melissa by visiting her website and blog. Melissa is a true Oceans ambassador and we are proud to have her as one of our alumni members.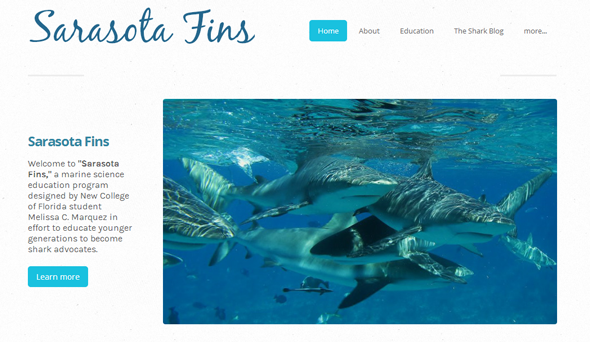 Melissa's website, Sarasota Fins
Natalie Reichenbacher – Marine Biologist and Researcher, Activist, Writer and Underwater Photographer.
Natalie was one of the first Oceans Research intern's way back in 2010. Today, she lives in Kona, Hawaii, researching and learning about the local marine life. Apart from her interest in marine biology, she is also a very talented underwater photographer and accomplished writer – see for yourself by reading her blog articles here: Seaing Blue.
Multi – talented and passionate about the ocean, we are glad to have an Oceans ambassador like Natalie out there in the world.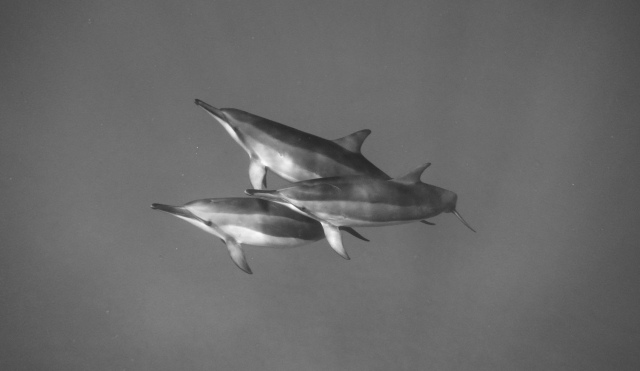 Dolphins, By Natalie Reichenbacher
Cassandra Ruck – Marine Biology Masters student and Shark Tracker at the Guy Harvey Research Institute.
After a phenomenal experience at Oceans (Jan 1 to May 1, 2013) Cassandra went back to the States to start her Masters Degree in Marine Biology at the Guy Harvey Research Institute at Nova South Eastern University. Her thesis focuses on the global gene flow and horizontal movements in the Western North Atlantic of Oceanic Whitetip Sharks.
Her research involves tagging and tracking Oceanic Whitetip Sharks – a very exciting activity as many of our past interns will know. You can follow Cassandra's work, as well as view the tracks of 5 different shark species on the Guy Harvey Institute's Website.
Furthering an academic career in Marine Science is a very challenging endeavour. It is, however, of imperial importance to understand the workings of the ocean to ensure successful conservation efforts.
We are very proud of Cassandra's achievements and wish her all the best for her future in marine science.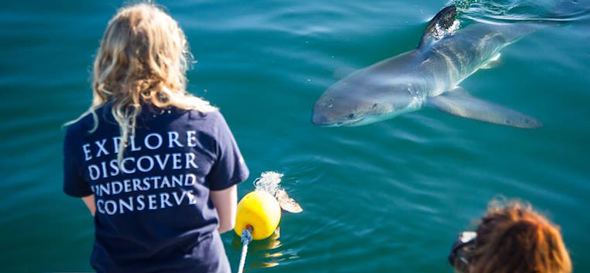 Cassandra meeting up with one of Mossel Bay's locals
Haley Pope – Wildlife Photographer and Conservationist
Wildlife photographers are true advocates for the state of the world's wildlife. By clicking away in exotic locations, they are exposing millions of people to the wonders of the natural world, as well as the threats and challenges facing thousands of animal and plant species. For the last two years, the Wildlife & Adventure Photography Program has been training and mentoring aspiring wildlife photographers in the art, and Haley is one of the "products" – capturing amazing images and inspiring many people to become involved in conservation.
To take a look at the breath-taking images captured by Haley, view her photo galleries and read her blog on her website, Terralens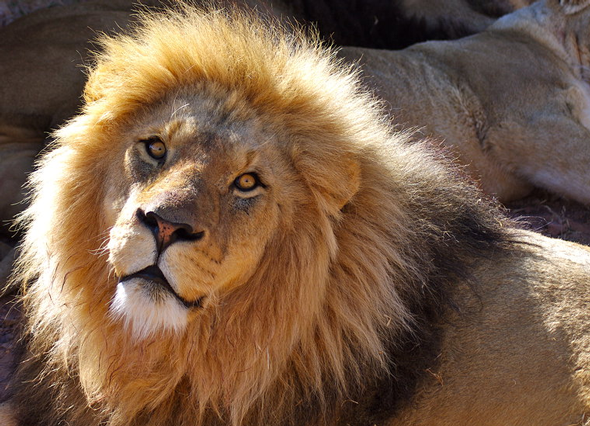 "Male African lion (Pantera leo) stared directly back at me and I hold my breath! At Aquila Private Game Reserve, South Africa" – Haley Pope